Day 14 - A day of leisure in Montecatini Terme
Montecatini Terme, Montecatini Alto
Thursday, 12 May 2011
Today we had the opportunity to do what we liked. We could have gone back into Florence or pampered ourselves in one of the spas. We chose to just leisurely explore Montecatini and do some shopping. It was this day that I bought my biggest souvenirs, my unique "Italy" handbag which was made locally. There were also some markets nearby and I found a lovely selection of Italian silk scarves which I bought for all my friends.
We also caught yet another funicular up to the old town where we enjoyed the views and the best coffee ever made! This was a 2nd attempt by a very friendly, local cafe owner who was a Columbian/Italian national, and was eager to please our tastes. Not that we complained about our first cup, we actually complemented him but then we got talking and he wanted to know how most Australians like coffee, so we explained. Our favorite is a strongish cafe latte. It's funny how these little things stick in your mind. I think it was he showed a real interest in us. Also it was a nice change after the awful coffee at our hotel at this time and then the strong black expresso the locals have.
A carousel ride, only 1 euro!
[Map]
Another spa place in town.
[Map]
The funicular station.
[Map]
The cog train which takes passenger up to the old
[Map]
A cute little bridge we go under!
[Map]
The overtaking line.
[Map]
Jason in the train with views down to Montecatini!
[Map]
View from the train!
[Map]
Looking down at Montecatini.
[Map]
The heart of the small village of Montecatini Alto
[Map]
A thorn amongst the flowers!
[Map]
Beautiful roses - Spring, the best time of the yea
[Map]
Interesting houses which overlook a beautiful Tusc
[Map]
View of a Tuscan valley and its Olive groves!
[Map]
An authentic pizza oven in someone's backyard in T
[Map]
In Tuscany!
[Map]
Day 15 - Lucca & Pisa
Montecatini Terme, Lucca, Pisa, Montecatini Alto, Montecatini Terme
Friday, 13 May 2011
Today we went to visit one of the most typically "Tuscan" towns in the area, Lucca - a medieval walled city, filled with palaces, churches and ancient houses. You can walk on top of the city walls for the best city views. We went to the Piazza San Michele and strolled along the shops of Borgo Giannotto. We found this city to be nice, quiet and compact - it was lovely! It was here that we found a cute dog staring down a butcher and his meat in a square. It was quite funny to see.
After our visit to Lucca we were taken to Pisa. We were very surprise as to how it was situated. Amongst a busy city it is walled in. We also had to make our way past many beggars who were very persistent and of course this area was extremely popular and busy with tourists. Jason and I decided to have lunch here at a Japanese restaurant. The Italian Japanese do it very well!
Later we visited Fattoria di Poggio, a farmhouse in the Tuscan hills and enjoyed a tasting of a wide variety of local wines, olive oils, grappa, Vin Santo plus locally produced breads, salami and sun dried tomatoes. This was very nice, a lovely house and nice owners, heaps of food but a steep road to get to it.
Carousel in Piazza Napoleone, Lucca.
[Map]
Our tour guide Aldo, caught off guard!
[Map]
Lucca garden.
[Map]
The busiest area of Lucca!
[Map]
Just lovely! (and Paul taking a photo of Sylvia).
[Map]
A narrow lane way, unfortunate about the graffiti.
[Map]
The picture says it all!
[Map]
The very old door to a courtyard, it was 6 inches
[Map]
The very cute, persistent dog eyeing off the meat
[Map]
Very persistent but very good (and did I mention c
[Map]
This was taken for Shell's benefit, a beautician.
[Map]
Intricate mosaic on a church.
[Map]
Ornate fountain in Lucca. The water coming from t
[Map]
The things you see anywhere in the world!
[Map]
I love craft!
[Map]
Another lane in Lucca.
[Map]
Bascillica of San Frediano.
[Map]
Mmm!
[Map]
Heading back to our bus which had to be parked out
[Map]
The fortress walls of Lucca.
[Map]
Piazza del Duomo or Campo dei Miracoli, Field of M
[Map]
The walls surrounding Pisa.
[Map]
Pisa holds Europe's greatest groups of Romanesque
[Map]
Battistero or Bapistery of Pisa, Construction star
[Map]
Duomo di Pisa, cathedral, dating from 1063.
[Map]
Detail on the building.
[Map]
The leaning tower of Pisa! Building on the tower s
[Map]
Jason doing his best trying to upright the tower!
[Map]
The Japanese Restaurant where we had lunch in Pisa
[Map]
The plethora of crap visitors can buy!
[Map]
Jason in front of the souvenir stalls, not wanting
[Map]
The beggars/sellers outside the walls at Pisa!
[Map]
Farmhouse of Fattoria di Poggio where we had Tusc
[Map]
Cherries at the farm.
[Map]
The modern extension where this innovative family
[Map]
Marco our bus driver trying to differentiate the d
[Map]
A nearby cemetery.
[Map]
Looking up to the little town of Alto
[Map]
Day 16 - Cinque Terre
Montecatini Terme, Porto Venere
Saturday, 14 May 2011
We had a delightful day as we explored the famous Cinque Terre, the five unspoiled fishing villages that cling to the cliffs overlooking the sea!
We enjoyed a coastal boat ride and admired the spectacular scenery, the almost inaccessible fishing villages and visited Porto Venere, Vernazza and Monterosso. Our return journey was by train through the tunnels and cliffs above. This was an excellent day. We had a yummy lunch in a seafood restaurant with Sue and Brian, fellow travellers.
On our way to Cinque Terre.
[Map]
The village of Fezzano.
[Map]
Arriving in Porto Venere!
[Map]
Approaching Porto Venere!
[Map]
The village of Porto Venero!
[Map]
Interesting colourful buildings.
[Map]
Posing at Porto Venere!
[Map]
Jason and his mate!
[Map]
A true fishing village!
[Map]
Portovenere's fortress at the point!
[Map]
Walking up these stairs then almost a u-turn leads
[Map]
The lane way behind.
[Map]
Still colourful here.
[Map]
So pretty!
[Map]
Exit of the lane at the other end of the village.
[Map]
Leaving Porto Venere!
[Map]
Houses and terraces on what would seem impossible
[Map]
Approaching Riomaggiore!
[Map]
The village of Riomaggiore.
[Map]
Amazing tunnels for the railway that runs right al
[Map]
Walking tracks also run all along the coast at Cin
[Map]
Riomaggiore
[Map]
Incredible!
[Map]
Amazing structural achievement.
[Map]
A long way to walk!
[Map]
A long way to climb!
[Map]
But worth it!
[Map]
More walking!
[Map]
A bit of a walk down to the boats!
[Map]
Or back up to the house, especially if you have a
[Map]
Amazing scenery!
[Map]
And beautiful blue water!
[Map]
A seafood restaurant at Vernazza.
[Map]
Vernazza, where we had lunch!
[Map]
Very nice!
[Map]
And a lovely day, we had fantastic weather.
[Map]
Warm enough for people to swim in Vernazza's bay,
[Map]
Vernazza's beach and clock tower (so you know how
[Map]
Vernazza's port, just near the beach!
[Map]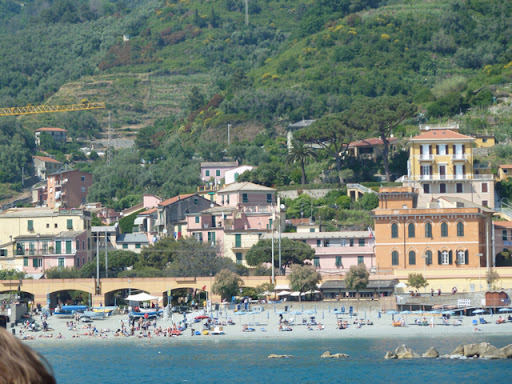 Approaching Monterosso.
[Map]
Monterosso
[Map]
On the beach at Monterosso.
[Map]
In Monterosso.
[Map]
A walkway leading out of the town.
[Map]
A lovely church in Monterosso, note the boat hangi
[Map]
Monterosso al Mare.
[Map]
Looking down the coastline, there are many beach a
[Map]
Popular now in Spring, imagine Summer!
[Map]
---
Sent from my iPad by My Vacation HD app (
www.myvacationapp.com
)